In this inaugural Fighter Flavor of the Month, I want to make its purpose clear. This feature is not to derogate the fighters which it highlights, whom we respect, rather, its purpose is to splash a bucket of ice water on the raging hormones of the wild fan boy stampede which forms after every major victory for any fighter. It is to encourage rational and unbiased analytical observation.
Now, in honor of his UFC 121 heavyweight championship victory, and in opposition to the likes of Joe Rogan with his proclamation of yet another "new era," let us begin with a look at the current Fighter Flavor of the Month, Cain Velasquez.
Cain Velasquez, current UFC heavyweight belt holder
Now I don't know about you, but I always thought eras were defined by dominant reigns spanning multiple years, and not by a single victory over a questionable fighter with only three year's experience and five wins to his name. It's clear that this "new era" talk is empty hyperbole, targeted towards the common fan who will gleefully swallow anything Zuffa spits.
Is Cain Velasquez a killer? Maybe, maybe not. At this point in his career it is impossible to say, as he has not fought the elite opposition of his division. Simply holding a UFC belt does not automatically make you the number one ranked fighter in your division, despite what the MMA media hacks want you to believe. Brock Lesnar was not even in the top 5 when he lost to Cain.
The most significant moments in Cain's career, the most telling moments, came in his fight at UFC 99 against gate keeper Cheick Kongo.
Cain Velasquez being rocked by a Cheick Kongo right hand at UFC 99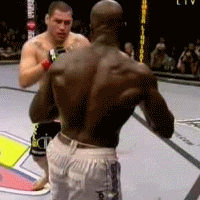 Cain has not shown anything to even come close to warranting the accolades he has been getting. Calling him Fedor v2.0 is laughable in its wild absurdity. Junior Dos Santos, whom Cain fights next, has shown all the skills which give Cain fits in the cage, namely power coupled with take down defense. If a gate keeper like Kongo, someone who can't even defeat a no name like Travis Browne, can nearly knock him cold twice, what is a proven killer like Dos Santos going to do to him?
It appears Rogan, who infamously christened the "Machida era" which lasted all of one fight, will again be eating crow when Dos Santos exposes the gaping holes in Cain's game.